Waistcoats are a classic and enduring piece of clothing and have established themselves as a timeless icon of fashion. The elegance of a well-fitted, traditional waistcoat resides in its versatility that can easily go from a formal to a casual context while always exuding a sense of sharpness and refinement.
In today's trend, Pakistan Mens fashion designers have consistently pushed the limits of the traditional waistcoat by showcasing trendy waistcoat designs for men 2023 that give any wardrobe a fresh look. The combination of a contemporary waistcoat design with sleek pants has brought about a revitalizing wave in the fashion industry, even though nothing truly compares to a classic waistcoat worn with traditional salwar kameez.
Let's explore some trending mens waistcoat designs that cater to different tastes & season styles;
1- Enchanting White Waistcoat Design for Men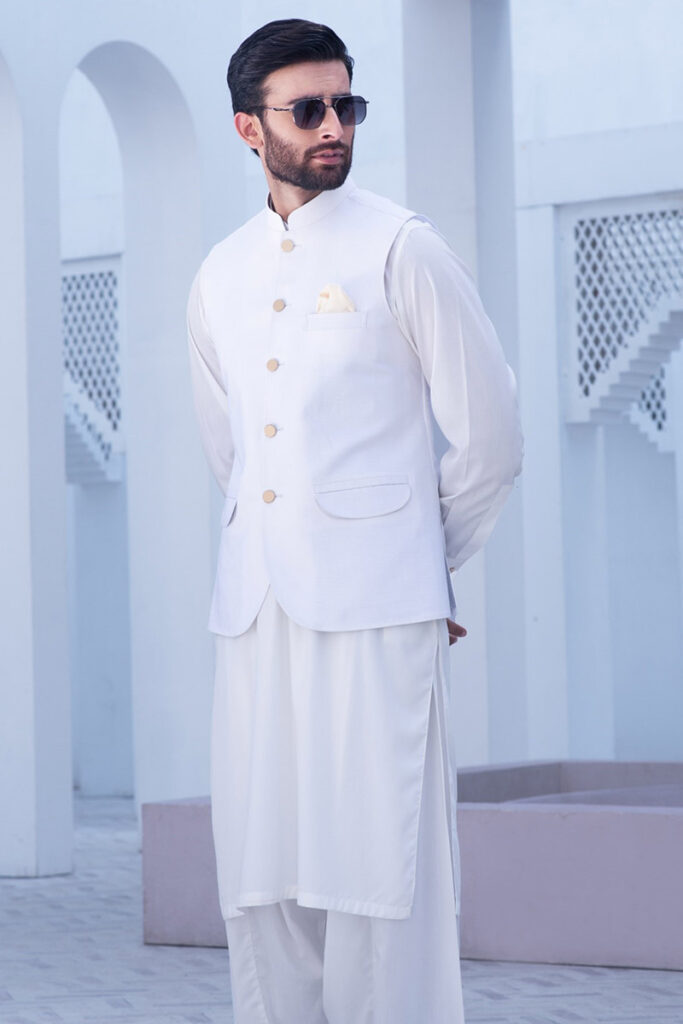 Stay stylish during summer days with the white linen waistcoat. The premium linen fabric provides breathability, making it an ideal choice for warm weather. Its clean, crisp, and simple design effortlessly complements any style of shalwar kameez and gives your summer clothing a classic touch.
2- Navy Blue Waistcoat Designs for Men
Embrace a classic look with the navy-blue tropical waistcoat that is crafted from high-quality fabric and offers exceptional durability & comfort. The deep blue hue exudes simplicity, making it a great choice for both casual and formal occasions.
3- Black Waistcoat Design for Dapper Look
The Black Plain Worsted Tweed Waistcoat will keep you warm and fashionable. The tweed fabric is warm and durable, and the black color radiates a classy, ageless style. This adaptable waistcoat complements a variety of winter ensembles with ease.
4- Make a Statement in Sky Blue Textured Waistcoat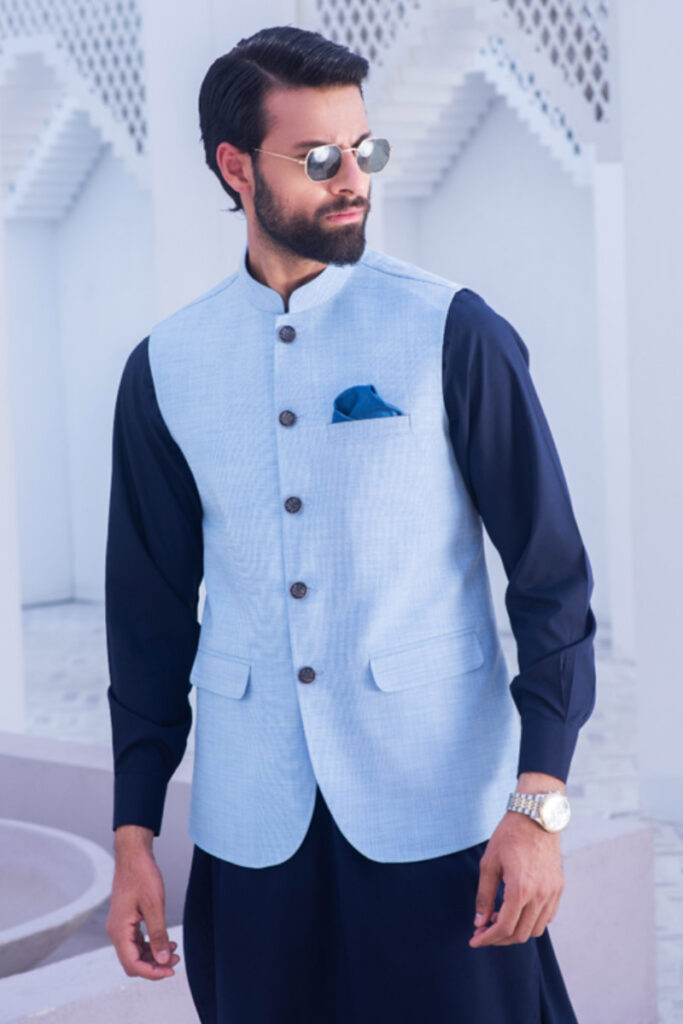 The fabric's texture adds visual depth and interest, while the sky-blue color promotes serenity. This waistcoat is an absolute necessity for anyone looking to rock a chic summer style.
5- Vibrant Blue Birdseye for Men Online in Pakistan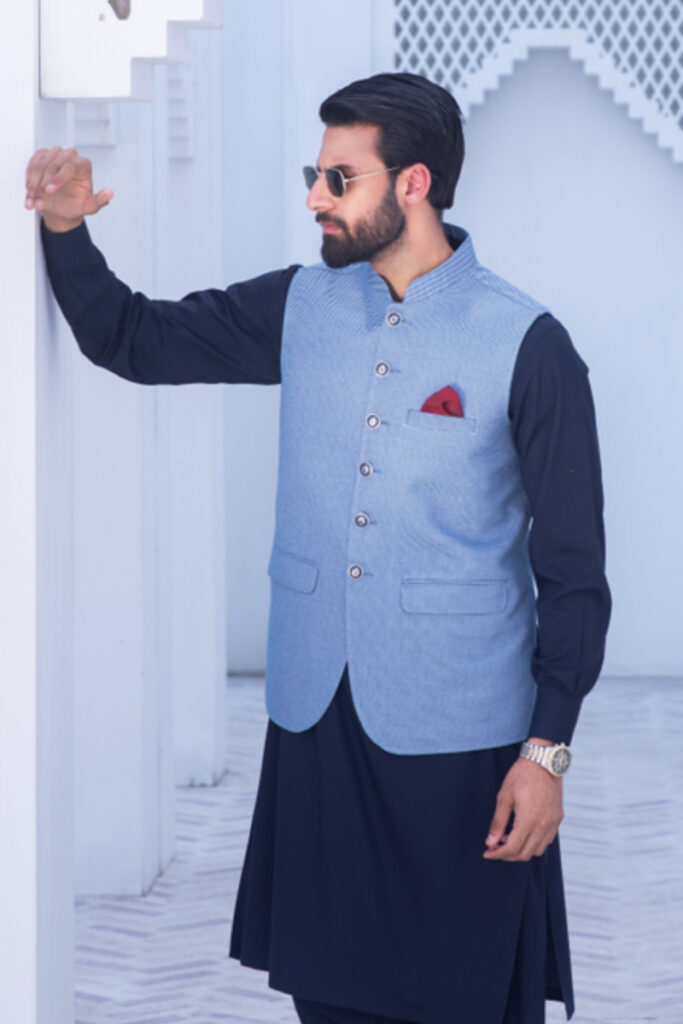 Add a colorful boost to your summer wardrobe with this Blue Birdseye Tropical Latest Waistcoat designs. The lightweight, cozy feel of the tropical fabric is ideal for the season. Its refined and attractive Birdseye pattern gives your clothing a lively and charming touch.
6- Striking Silver Grey Waistcoat Design for Men
The Silver Grey Check Tropical Waistcoat will draw attention. The silver-grey waistcoat color exudes understated elegance, and the delicate check pattern provides a modern and elegant touch. For your summer events, this waistcoat features both style & comfort due to its high-quality tropical fabric construction.
7- Grey Waistcoat that Commands Attention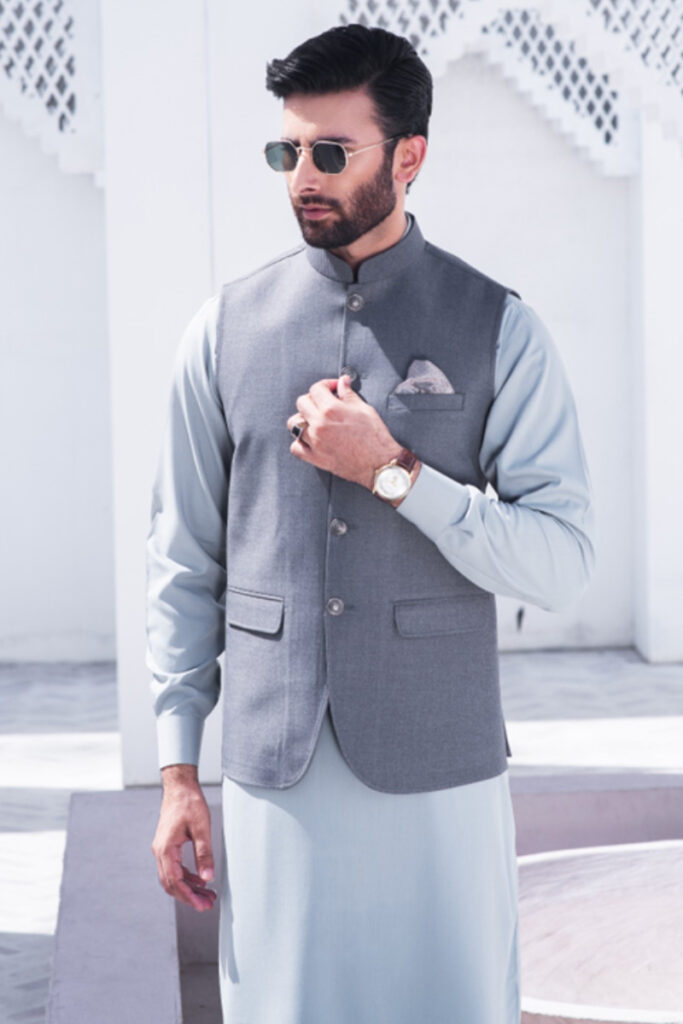 The Grey Linen Waistcoat will give you a breezy sense of style. This waistcoat, which is made of high-quality linen and has a loose fit, is ideal for the summer because of its great breathability.
8- Stand Out in Style with Beige Color Waistcoat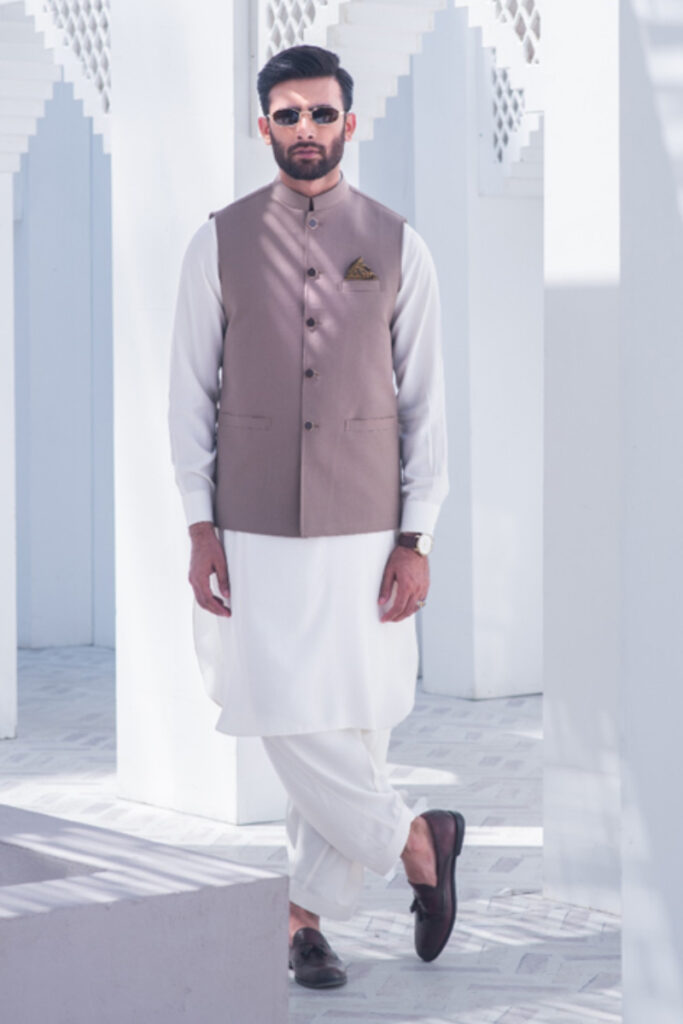 The Beige Tropical Waistcoat will help you get a modest style. Even on the warmest summer days, comfort is assured by the tropical fabric and the light beige tint, which convey timeless elegance.
9- Embrace the Charm with a Dotted Brown Waistcoat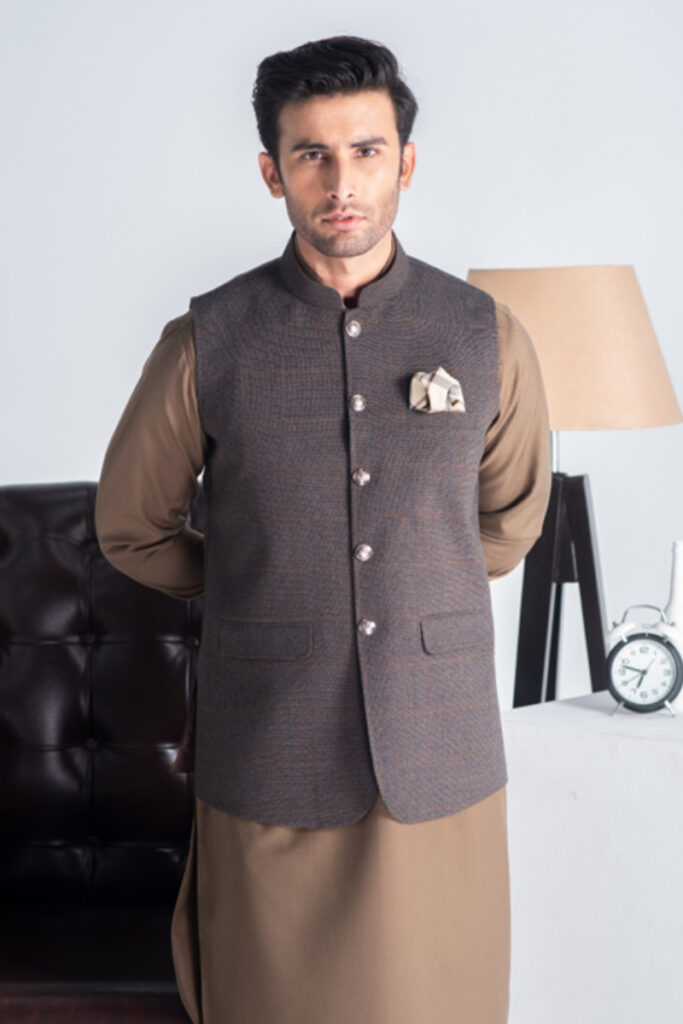 The Dotted Brown Textured Waistcoat will keep you warm and elegant. While the brown color and dotted embellishments provide a sense of refinement, the textured fabric adds visual appeal. This waistcoat seamlessly fuses comfort and design, making it ideal for winter.
10- Rich Brown Checkered Waistcoat
The Rich Brown Checkered Waistcoat designs will enhance your winter wardrobe. The timeless appeal of the traditional checkered pattern in rich brown tones is added to your ensemble. This waistcoat's use of premium fabrics assures that it will provide warmth and a stylish appearance.
11- Radiate Elegance in Textured Maroon
The Mini-Check Textured Maroon Waistcoat will draw attention. The textured fabric and maroon color combine to produce a captivating appeal. This waistcoat is a great option for the winter because it offers the appropriate balance of warmth and style.
12- Add a Touch of Elegance with Micro Check Textured Blue
A classy touch is added by the micro check textured blue design in cool blue. This waistcoat was made to be stylish and comfortable, making it ideal for frigid winter days.
13- Textured Brown Check Waistcoat
The Textured Brown Check Waistcoat presents a refined appearance. The brown checkered pattern and textured fabric work together to offer visual interest and depth. This waistcoat guarantees comfort and style while being designed to endure the winter chill.
14- Stay on Trend with Greyish Blue Check Waistcoat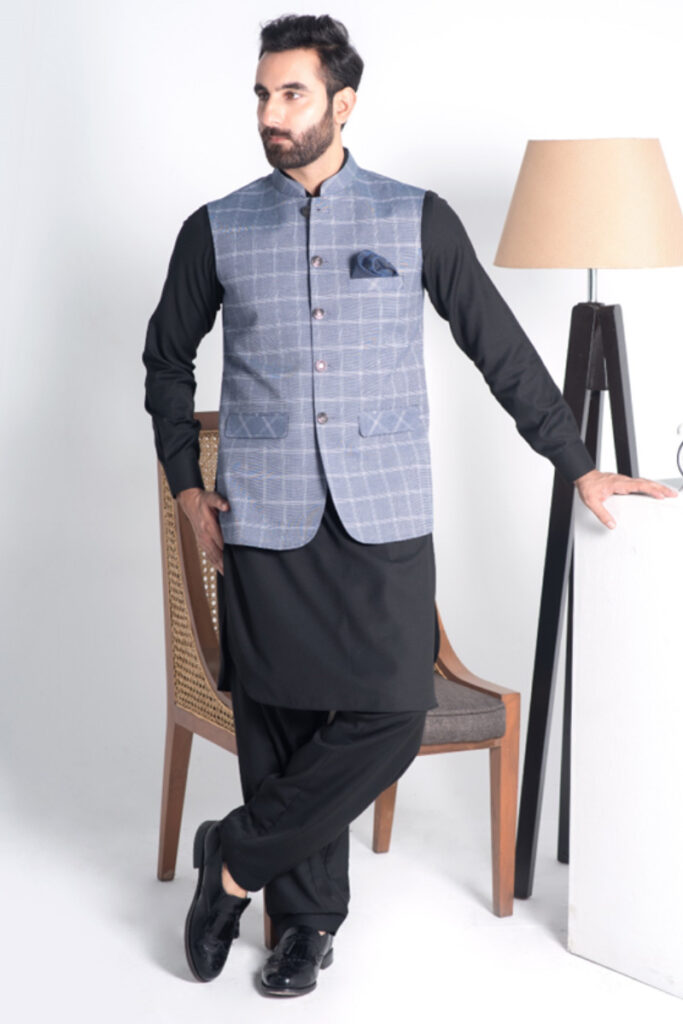 The moderate blue color and checkerboard design give the outfit a contemporary and adaptable appearance. This waistcoat is a solid option for winter clothing due to its high-quality crafting.
15- Light Blue Checkered Waistcoat
The Light Blue Checkered Waistcoat designs will provide a splash of color to your winter wardrobe. The bright blue color gives your outfit a vibrant, energizing air. This waistcoat is a winter season need because it is made to keep you warm and fashionable.
 16- Stand Out with the Checkered Maroon Waistcoat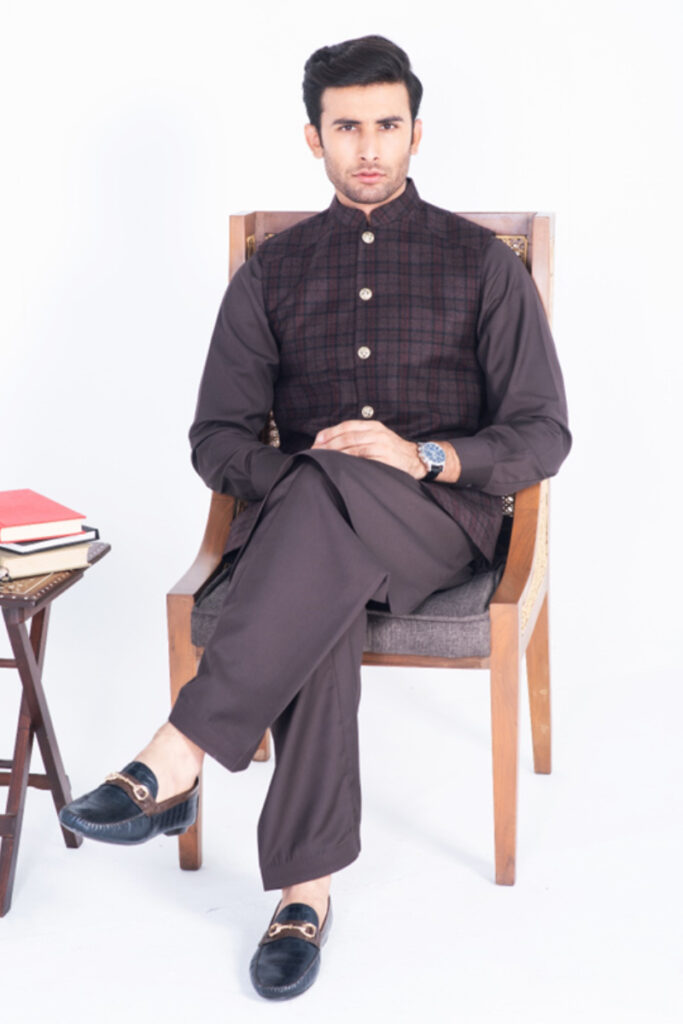 The maroon color waistcoat with the contrasting checkered accents gives a striking and elegant feel. This waistcoat's quality construction guarantees warmth and a standout winter appearance.
 17- Blue Wide Checkered Waistcoat
A passionate and striking appearance is produced by the wide blue checkered pattern in blue tones. This waistcoat is ideal for winter events designed to be comfortable for all men ages.
18- Cobalt Blue Waistcoat
The delicate fabric and opulent cobalt blue hue exude opulence and sophistication. This waistcoat is a standout option for the winter season because of its exceptional quality and design.
For the season of summer waistcoat designs, Most of the Mens clothing brands in Pakistan select light-weight fabric like cotton schiffli, cotton, wash & wear that is breezy and will not make you sweat.
Whereas, Winter waistcoats are crafted with thicker fabrics such as tweed, wool or cashmere providing protection against the cold. The luxurious texture and rich colors of these materials add a touch of refinement to any outfit.
Waistcoat designs for men 2023 are as diverse as they are timeless. From basic designs to unique pieces, waistcoats are designed to enhance your wardrobe for various occasions.