Our sense of sight plays a pivotal role at workplaces allowing us to deliver a tremendous amount of precision during work hours and offering better judgment for interacting with objects in the environment. 
However, depending on working conditions and the nature of the job, our eyes may be subjected to some work hazards. Things like airborne dust, chemicals, and even intense rays of light can hurt your eyes or damage them, and hence wearing eye safety equipment becomes a necessity.
According to a recent study by the American Academy of Ophthalmology, eye injuries at work are an alarming issue, with the US Bureau of Labor Statistics reporting 20,000 eye injuries occurring in workplaces every year. 
Furthermore, OSHA (Occupational Safety and Health Administration) reports an estimated cost of $300 million every year as a loss in productivity caused by eye injuries. 
In light of this information and keeping fashion in mind, let's take a quick look at some of the best safety wear goggles that you can wear at your workplace.     
1. iSafetyWear Goggles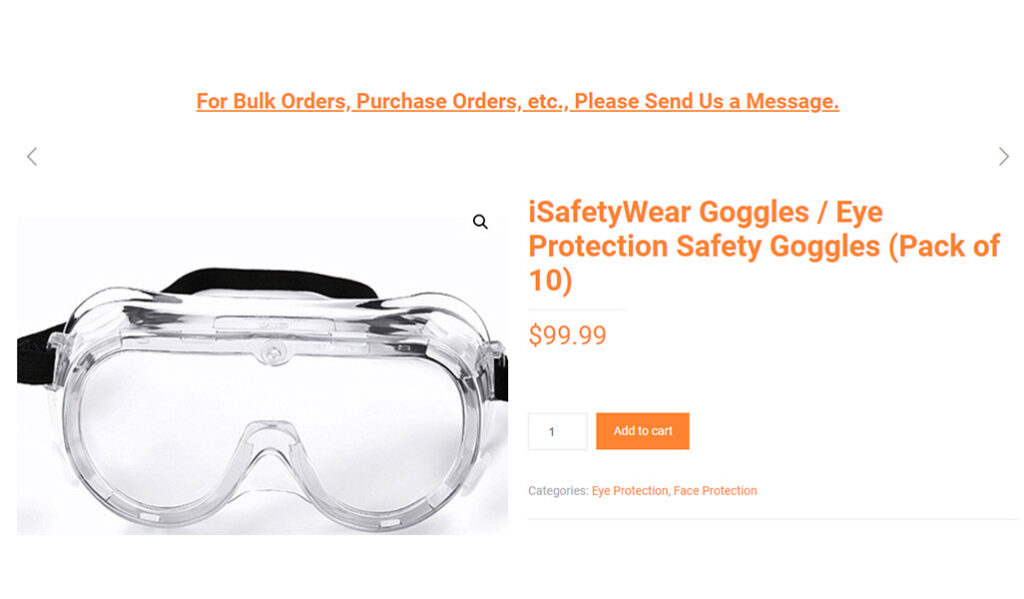 According to the Fashion Writer from Dissertation Service UK, 
"The Eye Protection Safety Goggles by iSafetyWear rated as #1 on our list for their top quality medical grade safety and lightweight PVC frame that is comfortable to wear. With iSafetyWear goggles, you hardly feel any pressure on your forehead or force building up even after extended hours of use."
Perfect for all commercial and industrial use, these safety goggles come with anti-fogging properties that can fit over eyeglasses as well. These goggles are composed of top-grade plastic and polycarbonate clear lens. 
Thus allowing them to keep your eyes protected from all sorts of workplace hazards, including harmful liquids, dust, UV rays, viruses, and splashes. The goggles are available in both adjustable elastic headbands and non-elastic options as well.    
2. Dewalt Dominator Safety Glasses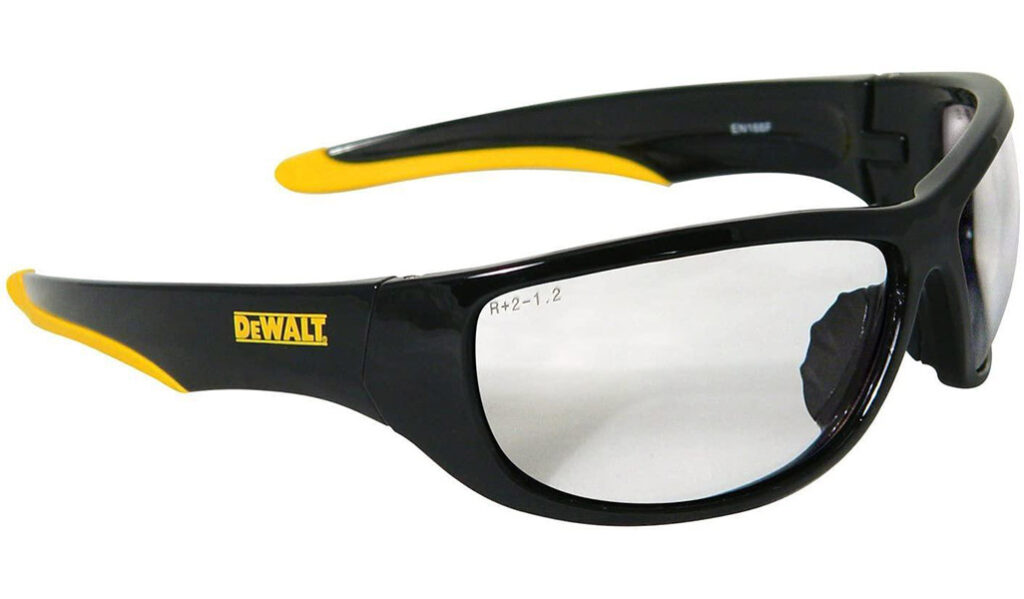 With the DEWALT Dominator Safety Glasses, you achieve modern styling and high-impact protection. The rubber-tipped temples are used to make the glasses less discomforting to wear for longer periods of time, as well as stop the glasses from slipping off while you manage your duties. 
Protect yourself against 99.9% of harmful UV rays with these safety glasses that come with integrated rubber nose pieces for added comfort. Hard coat lens provides additional durability and increased longevity. 
Lenses are available in different colors, including clear, smoke, silver mirror, yellow, and brown gradient. You can also opt for gradient lens glare protection, which improves visual clarity. These are among the best goggles that are worn at celebrations. 
3. NoCry Safety Glasses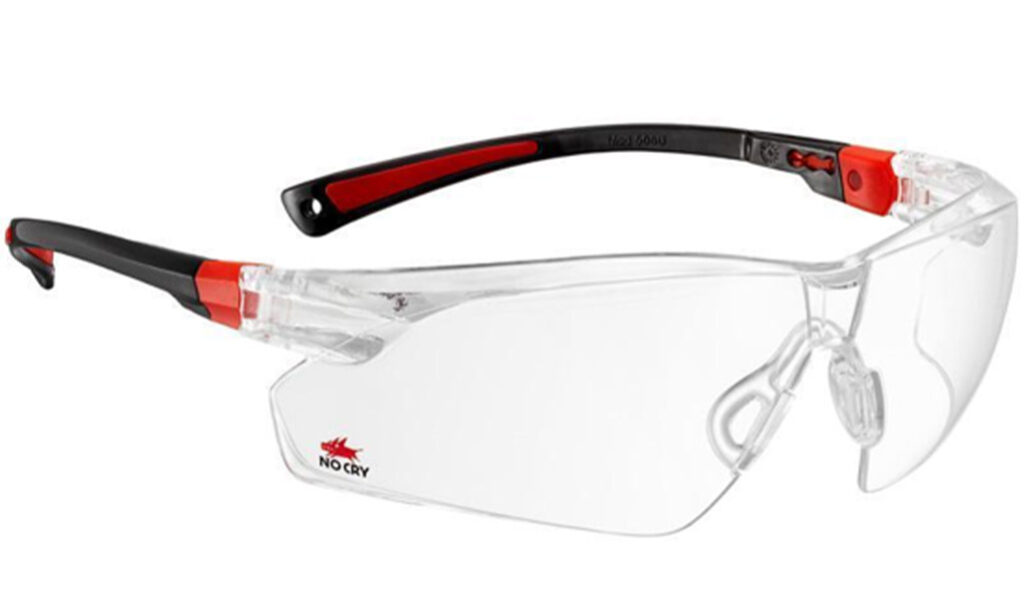 These glasses will make you less horrifying than those other professional counterparts available in the market. Made from high-quality materials, the NoCry Safety Glasses offer you impact resistance from flying debris, dirt, dust, or chemical splashes, keeping your eyes protected from possible injuries. These glasses are coated with anti-fog and anti-scratch treatments. 
They will fit any face or head size through their adjustable side and nose pieces. Reputably these glasses can also keep your eyes safe from 90-100% of harmful UV radiations. In case these glasses do not work, or you find some problems with them, then you can contact their customer care department for a refund.   
4. 3M™ Virtua™ CCS Safety Glasses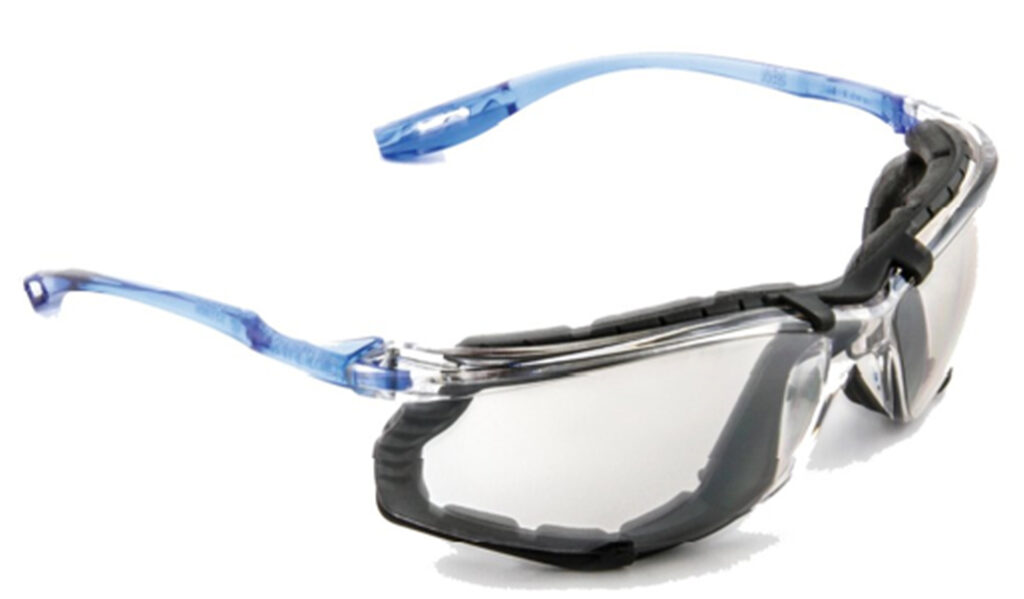 Designed so that you use them whenever you are working in a hazardous environment or want to give them to someone as a gift, the Cord Control System (CCS) keeps the eyewear and earbuds untangled. You can also opt for an additional foam gasket which is available with these pairs of safety glasses. 
The wraparound design provides unobstructed viewing and eye protection, along with contoured temples to deliver a snug fit. It contains Polycarbonate lenses which can absorb 99.9% of UVA and UVB rays. 
The optional foam gasket assists in limiting eye exposure to nuisances like airborne dust particles and providing additional cushioning. Unfortunately, these glasses do not come with splash protection as our number one contender on this list.   
5. Radians Revelation™ Protective Shooting Glasses
Offering a 5-position ratchet along with 4-position temples for superior fit, the Radians Revelation™ safety eyewear comes with 16 lens colors and is also available in polarized versions. The ventilation channel found between the safety lens and the protective frame of these glasses provides extra fog control along with a soft, non-slip rubber nose pad with self-adjusting fingers. 
Materials include a plastic frame with a polycarbonate lens and impact-resistant coating that delivers 99.9% UV protection. Good for outdoor and yard work, but they work best for low-light shooting, as the name implies. 
A word of caution, though, insect repellent with DEET has been known to destroy lenses and make them look as if they were sprayed with acetone. It could be best worn during the Halloween festival, considering its shade.  
6. Carhartt Carbondale Safety Glasses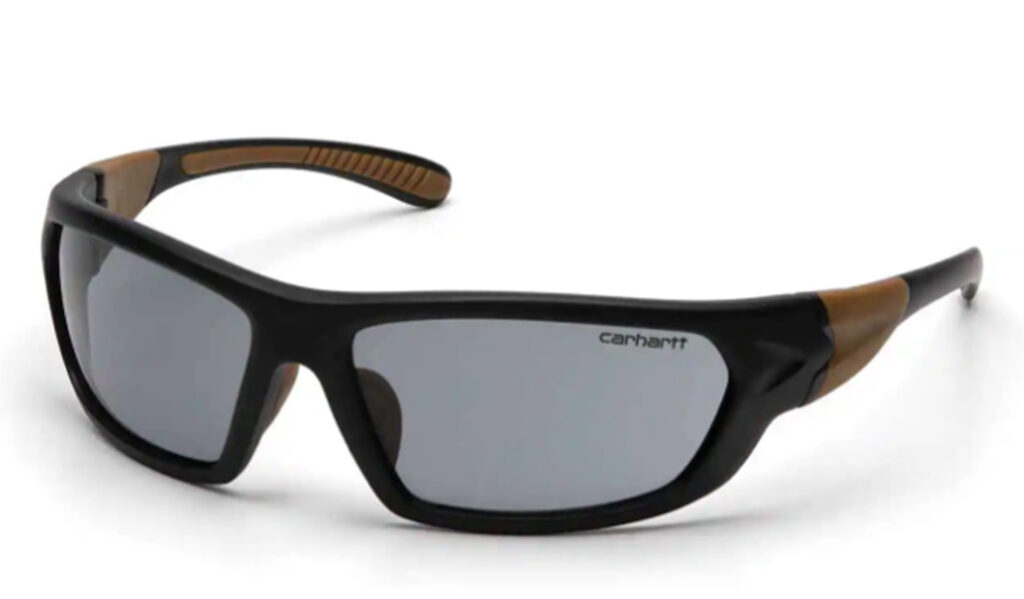 These Carhartt glasses offer your eyes lightweight coverage and safety that comes with a wraparound design making them perfect for outdoor and on-site jobs. For additional comfort, the rugged frames are featured a rubber nose. 
You can choose from a variety of lens colors that match your job lighting perfectly. Other features include a two-tone frame, flexible dual-injected temples, and a scratch-resistant polycarbonate lens to provide 99% protection from UV rays.
7. Smith & Wesson Harrier Interchangeable Shooting Glasses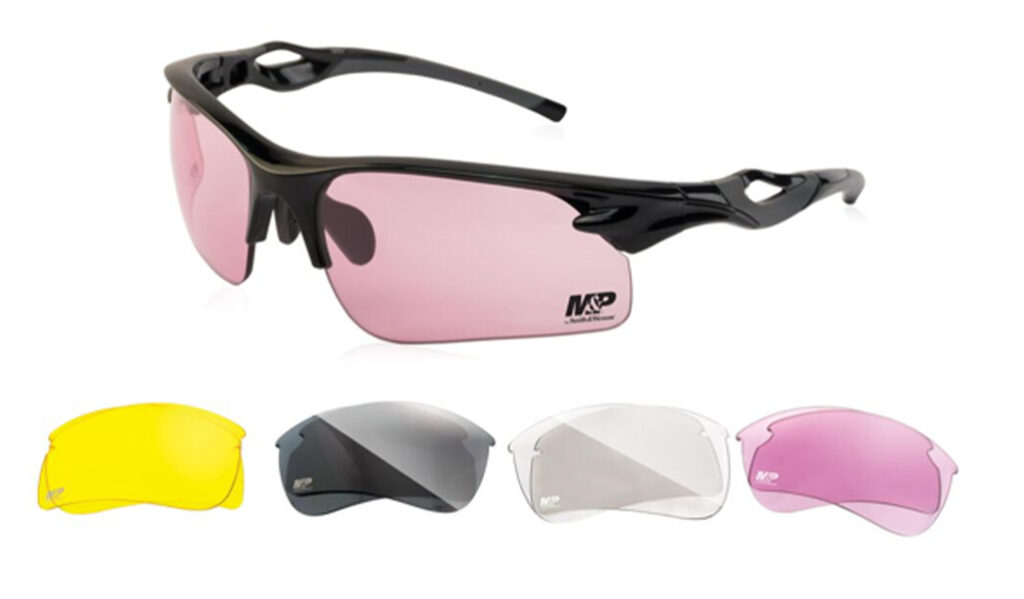 The M&P® Harrier Interchangeable shooting glasses protect your vision with four pairs of quick-change lenses that you can adapt to any conditions. The sleek design and sturdy frame deliver added durability for the glasses and keep them in comfort without letting go of style. 
You can also get a microfiber cloth with a durable zippered storage case when you buy these glasses. Plus, with four sets of lenses, you can choose from smoke, clear, mirror, vermillion, and amber. The one-touch pop-out method makes it easy to change the lenses without ever finding the need for bending or flexing the frame.  
8. ReadyMax SoundShield Construction Safety Glasses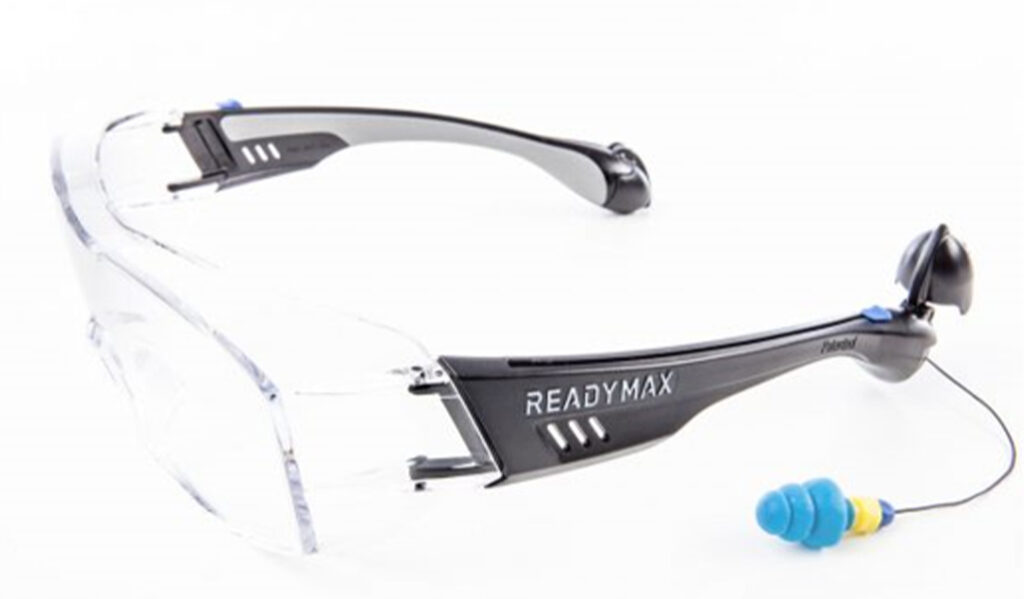 Combining hearing and eye protection in one convenient wraparound package, these ReadyMax Construction Safety Glasses come with SoundShield Patented Technology. Additional features include retractable and replaceable earplugs with anti-fog and scratch-resistant lenses that absorb 99% of cancer-causing UV rays. 
The frame is made with nylon and TPR co-moulded rubber for augmented flexibility and comfort. However, it is obvious that customers have already started complaining about the part of the frame that goes over the year, which is considered fat and can be painful after long hours of use. 
The idea is great and workable, although it may need some tweaks to make it more usable. 
9. Wiley X Tide Polarized Hunting Safety Glasses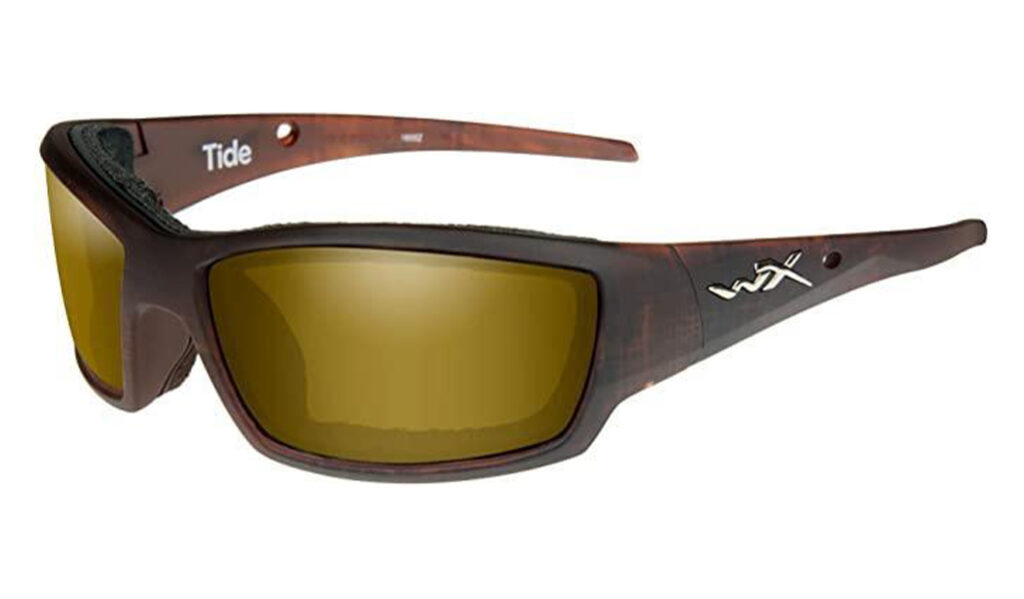 The Wiley X Tide is for all other adrenaline-inducing and sporty activities that may pose a danger to your eyes. Made in the USA, these glasses feature a plastic frame with a polarized lens. 
The Wiley X Tide also comes with a detachable Facial Cavitya Seal, which totally keeps the outside dirt and dust away, along with a T-Peg elastic band for a perfect fit. Furthermore, their climate control series allow you to block out elements and weather conditions. 
These glasses are a clear sign that Wiley X is constantly innovating to deliver unpatrolled protection and optical clarity for every pair of sunglasses they produce. Students that acquire essay help online are, however, looking for options that can keep their eyes protected from harmful rays coming from the display screens of their digital gadgets.    
Conclusion 
Safety glasses and eye protection generally fall under the category of Personal Protective Equipment or PPE, and therefore they serve to protect workers from hazards that they might be exposed to while on the job. 
Eye-related injuries are not to be treated lightly, and they are a huge concern, especially since even the most delicate of injuries can have a long-lasting impact on someone's life. Protecting yourself from harm should be our number one priority, and I hope this list will help you make better and informed decisions to safeguard your eyes from harmful objects at workspaces.
Author Bio
Stella Lincon is currently working as a Fashion Writer at Crowd Writer. She loves to read sci-fi novels during her leisure time and is an avid fan of the Star Wars franchise. Stella likes to travel solo and often travels to the countryside to explore the beauty of the earth and experience a variety of cultures. She also blogs at Educator House to share her experience with the readers.