Top Tranding Best Shalwar Kameez Designs for Men
A shalwar kameez is always men's number one choice in traditional, official, and casual wear. Shalwar kameez is formal cultural attire in Pakistan and other South Asian countries. Despite the increasing trends of western-style dressing, gents get attracted to the most recent men's shalwar kameez designs.
For those who want to leave a lasting impression on their corporate partners, coworkers, and employees, a well-tailored kameez shalwar men is the best option. That's why leading brands in Pakistan have presented many men's shalwar kameez collar designs and Chinese neck casual shalwar kameez designs.
Also Read >> New Men Kameez Shalwar Design Ideas 2023
If you are eager to find a perfect match for you, keep reading the article till the end because, in this article, we have listed the top ten best men's shalwar kameez design ideas for you from top Pakistani brands for kameez shalwar and kurta online shopping in Pakistan.
1- Nishat Linen- Embroidered Black Shalwar Kameez for Men – Shop Now
Nishat is among the leading brands in Pakistan and has gained much popularity in the last few years. It's not just a famous brand but the first choice of leading celebrities and fashion lovers. This season, Nishat has provided quality stuff and perfectly-tailored men's shalwar kameez suits.
Nishat designed this unique Embroidered Black shalwar kameez suit for gents with contrast white thread work on the necklet and collar.
2 – Gul Ahmad- Neckline Embroidered Men's Shalwar Kameez – Shop Now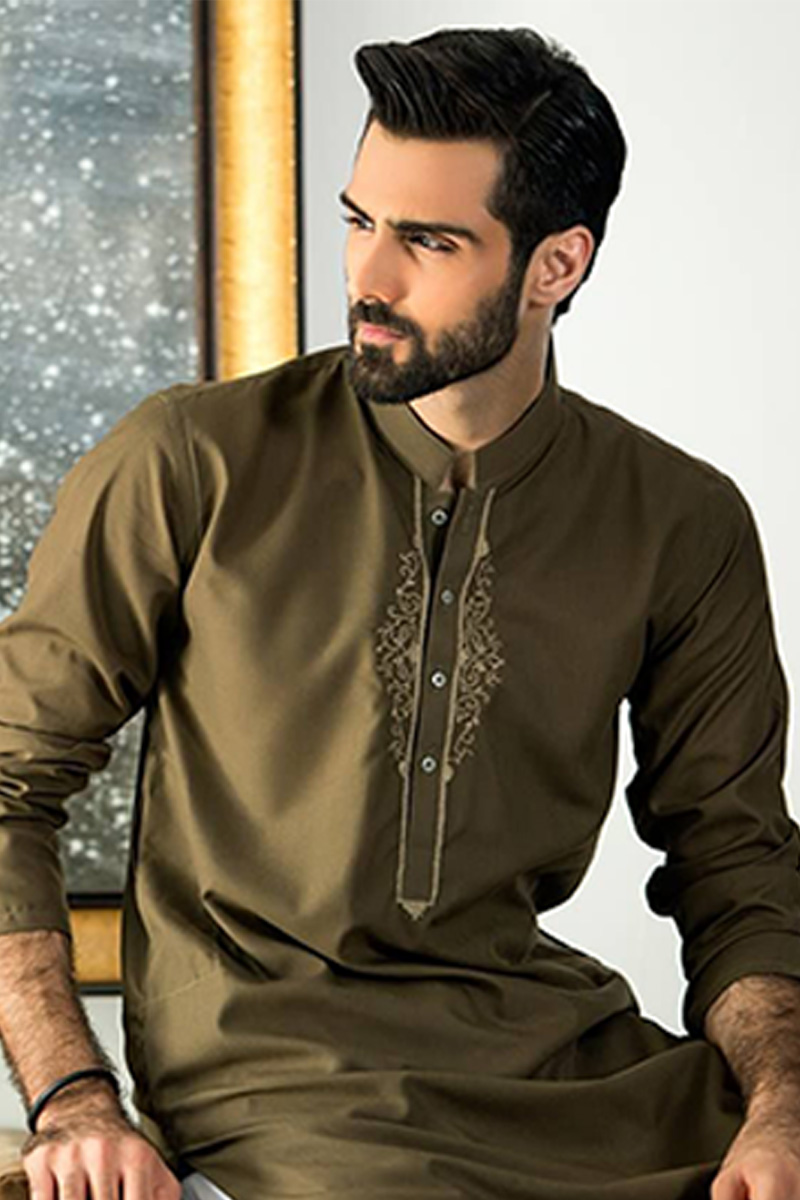 Gul Ahmed's trademark is synonymous with reliability, originality, and trustworthiness. Every year, Gul Ahmed presents a unique yet remarkable selection for men. Shalwar kameez designs by Gul Ahmad let their wearier stay on top of the style campaign.
Also Read >> New Kameez Collar Designs For Mens
Gul Ahmed's cost is relatively high, but their Shalwar Kameez is an example of originality and excellence. Look at this olive necklet embroider band collar kameez to confirm the greatness of this brand.
3 – Bonanza- Grey Straight point Collar Shalwar Kameez – Shop Now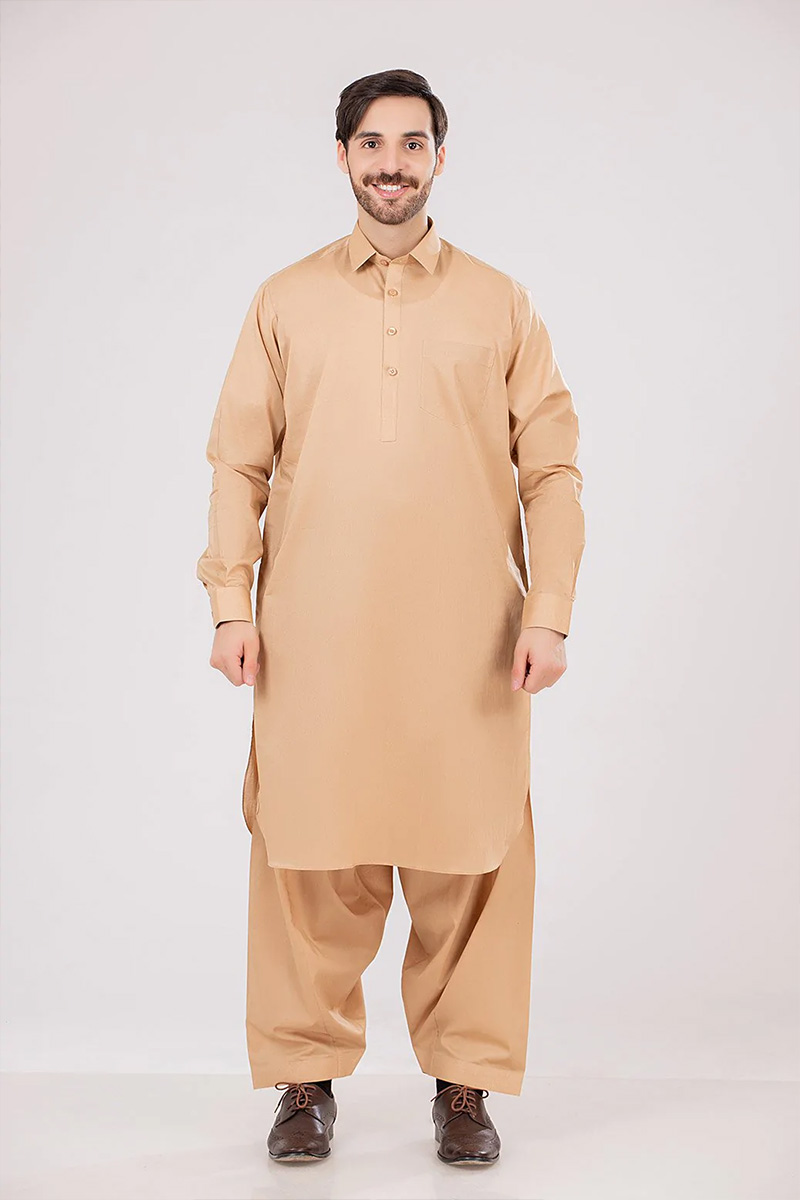 Bonanza is a Pakistani fashion brand with 80+ outlets across Pakistan. Bonanza Satrangi is famous for manufacturing and selling Men's Formal Clothing, Knits, and ethnic wear. As the first brand to introduce augmented reality in Pakistan, bonanza always designs unique suits like this grey shalwar kameez.
This outfit is eye-capturing due to its thread work around the button placket. The straight point collar and cuff give traditional looks to the wearer. The stuff quality and round hem of this suit say it all.
4 – Ismail Farid- Simple Black Shalwar Kameez for Men – Shop from Ismail Farid
The Ismail Farid brand has been renowned for its high-quality cloth, colors, and exclusive designs for many years. The color selection of this brand is unique.
This simple black men's shalwar kameez is an awe-inspiring outfit; the long sleeves, cuff, and round neck collar design are simple yet elegant. The price range is between 8000 to 40,000 for men's shalwar kameez designed by this brand. This price is relatively high, but it is worth it.
5 – Sapphire- Embroidered Herringbone Shalwar Kameez For Men's Click here to shop online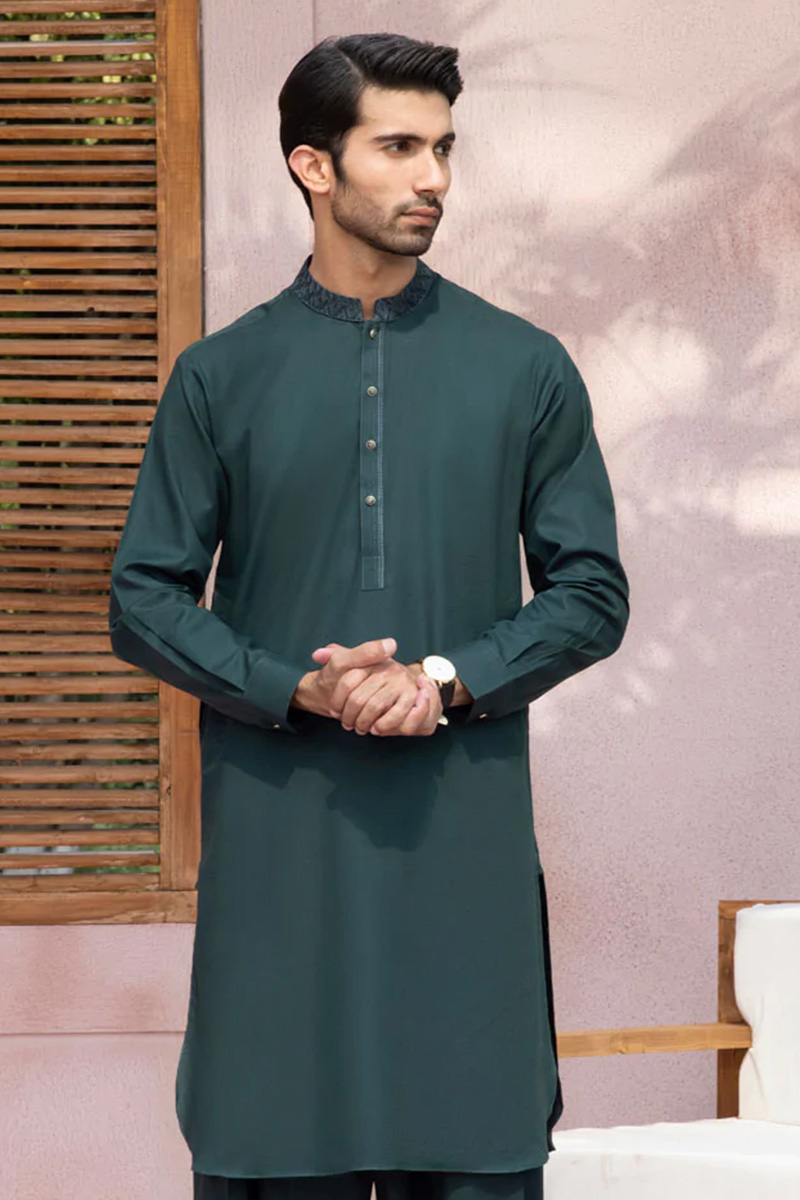 Sapphire is a leading brand renowned for its premium quality men's shalwar kameez suits. An example of their distinctive men's outfit is this two-piece dark green cotton herringbone. A perfectly stitched suit with a round hem and cuffed sleeves enhance your looks. Band neckline and long sleeves add charm while worn at weddings or any special occasion.
6 – Almirah- Maroon Blended Kameez Shalwar For Men – Shop Online
We can express Almirah, a famous clothing brand for men and women, in just three words, quality, class, and elegance.
Almirah presents classical and contemporary designs for men's shalwar kameez suits. The fine fabric and beautiful rich colors of Almirah's collection express its luxurious quality.
This maroon blended suit with Snap buttons and minimal details is perfect for any casual and party wear.
7- Saeed Ajmal- Men Premium Fabric Cotton Kameez Shalwar White – Shop Now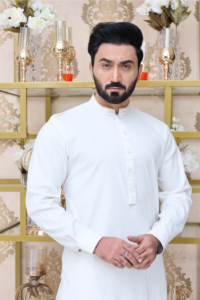 Saeed Ajmal started his clothing brand a few years back. The uniqueness of this brand shows in its western-styled casual shalwar kameez suits. Its fashionable and unique quality shalwar kameez make it distinctive from rival brands.
This white shalwar kameez with contrast trim details and Premium texture-cotton fabric gives an inspiring look. This outfit's uniqueness lies in contrasting trim details on the collar & cuff. The Mandarin collar with contrast top-stitches looks cool.
8 – Munib Nawaz- Casual Men Kurta Cream – Shop Online Now
Munib Nawaz is a Pakistani established brand famous for offering only menswear Kameez Shalwar. It was established in 2003 to add new life to menswear styles over the globe. Munib Nawaz offers men's kurta trousers, jackets, sherwani,  shalwar kameez, and bottom wear.
The excellence of their work blinks in every new article. Such as this new casual men's shalwar kameez designed this season. The simple right-point collar with cuff sleeves adds more shine to the wearer's personality. The cream color looks perfect for a special occasion like Eid.
9 – Junaid Jamshed J. – Embroidered Collar Green Kameez Shalwar for Men – Shop Online Now
Junaid Jamshed's brand, known as J. caters to all levels of sophistication. This brand provides casual as well as professional clothing for men. The crew of J. still ranked at the highest affordable and high-quality men's clothes including classic Shalwar Kameez, and kurta for men. The unique thing about their Shalwar Kameez and kurta is that they can permanently alter them for free if you want an exquisitely tailored fitting. This green suit with a Chinese band collar and cuffed sleeves shows a glimpse of their classic collection.
10 – Amir Adnan- Classic Kameez Shalwar Suit For Men – Shop Now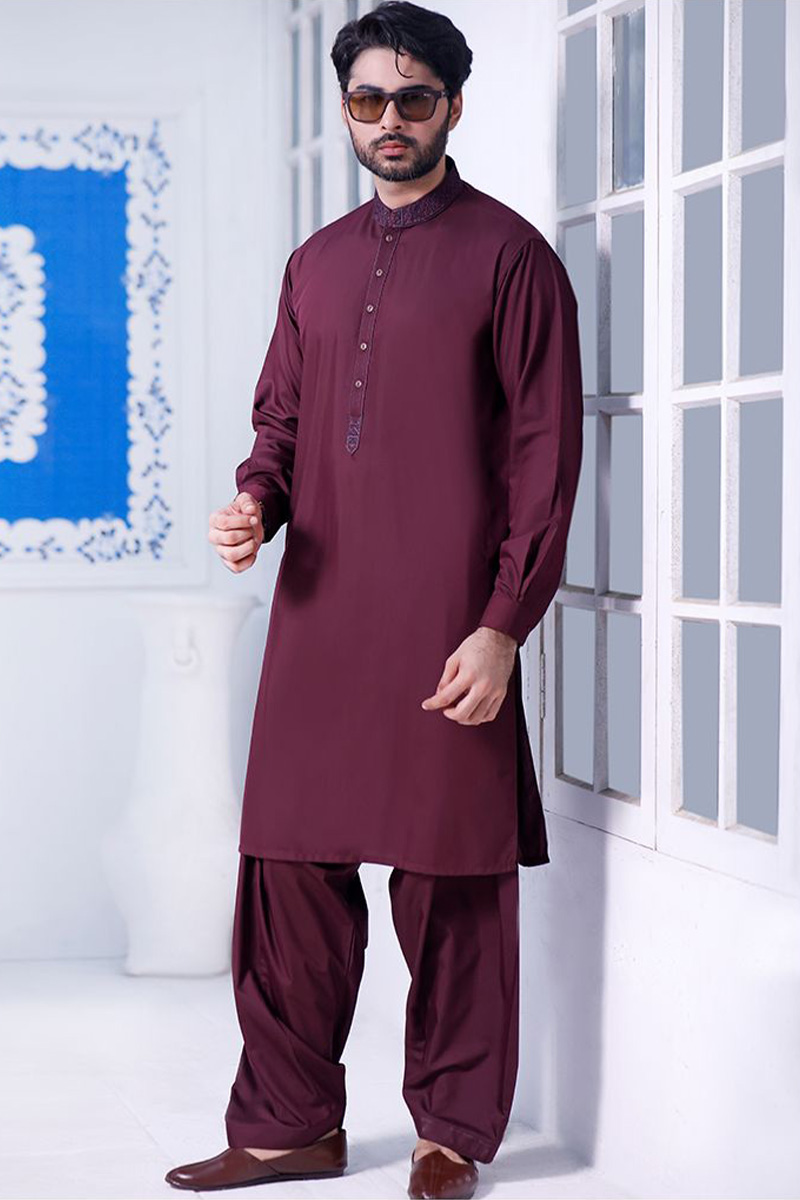 This chocolate brown shalwar kameez by Amir Adnan adds more sophistication to your beauty. Amir Adnan designed this men's suit to enrich your charisma, including a Chinese neck collar, full sleeves, and plain simple shalwar, which look classy in this fantastic stuff. This classic poly-viscose vanilla ice-classic fit suit is perfect for casual or formal use.
Conclusions
Everyone wants to look unique and attractive by choosing a divergent fashion stream. Our country's treasures include each of these clothing designers and brands. For a chic look, gents used to wear shalwar kameez on particular oceans like Eid and weddings parties.
The brands, as mentioned earlier, played an extensive role in contributing to the clothing business and providing outstanding outfits for mens of any age in Pakistan and Internationally, so, if you want to look different, choose one of the brands and shop for your favorite outfit. We wish you all the best for happily online shopping in Pakistan by these trusted brands. You can also visit your nearest outlet for the specific brand you like!
We have some top trending Shalwar Kameez designs for men from top brands in Pakistan. You can shop online from the link on each shalwar kameez design. For more designs revisit our website, you can contact us for any further information.
For Latest Neckline Embroidery Design Ideas 2023 by Saeed Ajmal visit this Page